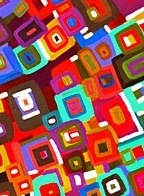 It's been awhile since I posted a Glittering Commentari, which are comment highlights from around the blogosphere. A recent commenter left this wonderful gem of spiritual advice on my post Spirituality without Religion. His or her name is Jesse Saunders, but that's all I know, since there is no blog link. Enjoy…
Here's my understanding, as best as I can describe:

The more simple you try to make your rules, the more abstract and harder to implement in real life they tend to be. But too many rules quickly start to become contradictory. My only suggestion is having an innate drive for understanding.

Trying to understand everything and searching for the truth leads you to greater wisdom. From that wisdom you can begin to see how even the words we use and ideas we have can never fully encompass everything that is. The truth is you will never be perfect, and once you discover that, you wouldn't want to be anyway.

You'll find that wise men tend to break things into either or situations and make one good and one bad in order to give the masses something to hold on to, but truth and reality weren't made that way. It is basically a shorthand for more effective communication and will do nothing to help you spiritually.

Always search, always question, always discover. The goal isn't to find one, or five, things to hold onto; it is to gain a more clear and true understanding of reality.

Your own perception is your greatest ally and worst enemy, the journey will usually start and end there.