Wow, I'm feeling a little giddy. A few weeks ago I asked Tony to submit some comments to the Glittering Commentari list. Today I got his answer.
For anyone who doesn't know him, this guy is a natural storyteller. His blog is one of my favorites. He has a gift for bringing you along in his narrative. He's light hearted and meaningful. And never pretentious. He's also very, very sexy. All of him.
According to him, out of his thousand comments, he chose one by me to submit! Boy does he know how to butter both sides of a guy!! I'm just blushing like a little Catholic schoolgirl.
Here's me kissing a tree after dreaming of Tony.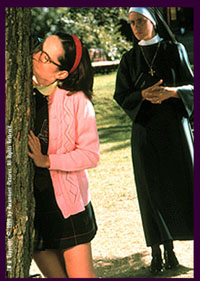 The post this comment refered to is Sunshine on my Soldier, one of his best among many.
My comment was:
My, oh my, Tony, you can spin it, unravel it, perk it up, drive it home. My rapt attention became my wrapped attention. Who needs a web cam!!!
Technorati tags- Glittering Commentari, Great Comments, best blog comments, blog contests, best comments