I haven't written much about the garden for awhile. My obsession with gardening has mellowed with time and age. However, after 17 years of maturing, this garden could be seen as a reflection of myself: a bit wild, a bit of fantasy, full of variety, inviting, comforting and stable within a pattern of constant change and interest.
When I first started gardening, I read all the books on garden design. My goal was not so much the pattern of design as it was variety and constant interest, meaning a balance of evergreen and deciduous, color (including leaves and flowers) all season, and scented flowers all season.

With my large nose I am able to smell quite well. I enjoy noticing the shapes, colors and essences of a scent.
The sense of smell overrides memory and thought. It is a primal experience. Most of us are probably more discerning than we think, but we tend to ignore our nose's input because it doesn't serve our daily lives much. Unless you are a perfumer, smell doesn't help make money, get chores done, feed the kids or pay the bills.
Yet through the day your nose can "see" the air around you via the scents wafting near your face. Not all are beautiful, but each gives texture and depth to your experience.
The garden offers constant interest for the nose. In my garden I have three early blooming Witch Hazels (Hamamelis) which flower in late winter, usually February to March in in Ohio. Two of them were chosen for the flower color and size, but their smell is weak.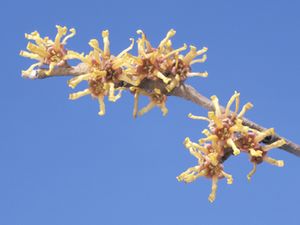 One, Hamamelis Vernalis, has insignificant looking flowers, but a very strong, sweet smell of cloves and honey. On a slightly warm, breezy late winter day when the sun is shining, that sweet smell floats across the garden to delight your nose with the promise of Spring to come. It's a rare treat. The flowers are built to endure hard frost, so even after a week of severe weather during its time of bloom, the scent will remain in waiting for the next nice day.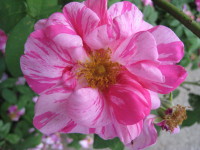 Summer offers a plethora of heavily sweet smelling flowers. I have a few hardy roses in my shady garden. My favorite rose smells are those of "old rose", richer and more heady than "tea" roses. Some contain hints of gardenia, sassafras and cherry.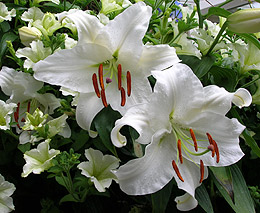 Of all summer scents, my favorite is that of Asiatic Lilies, particularly the giant white Casablanca. Its scent packs a wallop with thick, creamy layers of baked vanilla custard filled with cardamom carried on a background of citrus.
Scented tobacco (Nicotiana alata) flowers are a bit spicier, offering a cinnamon allspice smell only at night. Their glowing white flowers engage the interest of moths at night to complete their pollination.
Other scented flowers in my garden include: Honeysuckle, some Hostas, some daffodils, Sweet Autumn Clematis, Seven Sons Tree (Heptacodium miconioides) and Bee Balm.
After most other flowers have faded and dropped, one plant just begins to bloom. Cimicifuga "Black Beauty" has dark brown to black leaves during Spring and Summer. Then long stalks arise a foot or more above the plant. As the weather cools in September to October, small white flowers open along the top of each stalk. Their lack of ornamental beauty is well balanced by their strong, sweet smell. Vanilla, clove and honey prevail.
At almost anytime of year in my garden, you could go out blindfolded and still enjoy an array of beautiful and alluring scents.