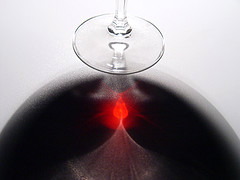 Wine is DEFINITELY alive. Each glass speaks to me, and sings from the lips of a large tulip shaped vessel like Pavarotti from the Met. Each bottle tells a story from beginning to end. Wine shared with friends connects us through its life given between our sipping smiles.
I started drinking wine in my twenties, back in the 1980's. I did it out of curiosity. I also had a house-mate who enjoyed wine and wanted to explore further, and a colleague at work who was an avid wine drinker.
My house-mate and I went to the local liquor store and bought a few cheap bottles of red to try. The taste didn't appeal to me at first. It tasted sour. Apparently I was drinking poor quality wine. I also soon learned that wine's quality is not necessarily related to its price.

Back then Australian wines were becoming widely recognized. California was the hot spot for great wine, but it was already overpriced. On the recommendation of my colleague, I bought a bottle of Australian Shiraz for about $8. I was blown away by the first sip.

It tasted fruity and voluptuous, with a velvety texture. It was thick, almost viscous, with a huge, fruit bomb flavor. I didn't need to ask the reason for sniffing the wine or swirling it around in one's mouth. The wine encouraged admiration from every angle. I've never forgotten that experience. Beginning with that bottle I formed a connection with an ancient and living tradition.
A few months later I heard about the closing of a large warehouse of wine. I was still a novice, so I didn't feel comfortable buying too much. Plus I couldn't afford much more than a case. I picked out a variety of things, mostly based on price. Everything was about half off, so I could buy a few things which had been out of my range before.

I decided to try a bottle of Bordeaux, a Chateau Montrose, Grand Cru Classé, from the Sainte Estephe area. (Check out this map. Ste. Esteph is in dark purple, next to the Gironde River) It was about $15, down from $30. Today, a similar vintage Montrose (5 years old) would cost $150. The name sounded familiar, and I knew by then that the Grand Cru Classé was near top quality Bordeaux wine.
I had studied French in high school and college. And I had biked through France, spending a fair amount of time in Bordeaux and Burgundy, the two great wine regions of the country.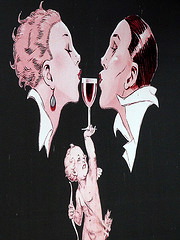 Bordeaux is the original region of masterful wines in the world. They refined the art of making red wine. But it was the British who spurred the world to appreciate great, aged wine. They collected it and cellared it and cultivated the popularity of drinking imported wine. Otherwise the French would have just kept quiet and drunk it all themselves.
I saved that bottle for a few years. I didn't have a cellar to keep it cool, so I couldn't hold it too long. A special occasion arose to open it. My group house, which had been together for 4 years, was breaking up. The owner was selling the property. The four of us went out to a fine restaurant to celebrate a last meal together. I took the Chateau Montrose we had it with dinner.
I remember ordering a fillet mignon for dinner. I still believe it is the perfect compliment to a great French red wine. Yes, I said the food compliments the wine, not the other way around.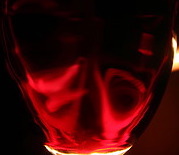 My first sip of the wine melted me. My friends thought I had fainted. It was perfect, at least from the view of my experience. The flavor was complex and subtle, just like the French culture. The mix of grapes, traditional in Bordeaux, formed a unique whole, like a great perfume. It lingered long and evenly on my tongue, opening up as it slid down my throat. It was dry enough to balance the food, certainly much dryer and more subtle than the Shiraz which had started me on this adventure a few years back.
The occasion of celebrating with good friends, coupled with delicious food, added to the experience of drinking that great wine. I found out later that Chateaux Montrose is one of the most respectable wines of the Bordeaux region. The convergence of all that history marked that night as one of the most memorable in my life.