Another Year
This poem was written by my grandfather on my father's side, the Welsh side. He was a coal miner in Wales until the age of 21, when he asked his beloved to marry him, then shipped off to the land of opportunity. The year was 1921.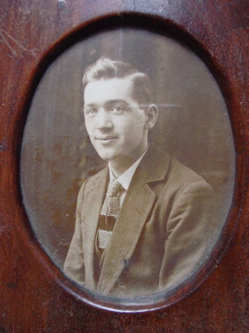 He forged an impressive career in the US, working his way up the ranks of a fairly large shipping business in Philadelphia. He eventually became chief engineer. He was a wizard at building things. He often made toys for me and my sister. During the last decade of his life, he was king of the retirement community's workshop; he had to instruct others in the use of the lathe, a complex and delicate wood cutting instrument. I still have numerous finely lathed lamps around my house.
His charming Welsh accent never left him. He always had a smile on his face and a joke to tell. I don't know now many times he asked me "So, are you going to become a genius… (which he pronounced geniASS with emphasis on the Ass!)"
He sang in choirs all through his life. He is the reason my mother was able to continue her musical career after marrying my father. He is one of the reasons, indirectly, why I am a musician, along with my sister.
He often wrote beautiful, poem like notes to us. This poem was probably written in the early 1980's. He was a gentle, upstanding American citizen. He died in 1985.
Another year has reached an end.
'Tis Christmas time in gray December
With thoughts of giving, as we spend,
of bad times past we rare remember.
Throughout the world a spell is cast
And thoughts of love and peace takes hold.
As we hear again as in the the past
The greatest story ever told.
True, greed and hate will still abound.
In hardened hearts who have no creed.
They specialize the year around
Using God to state their greed.
But thanks to Him, a son was born,
And Father, son and Holy Ghost,
Though many laugh and many scorn
The spirit of God is worth the most.
The atom bomb, the power of man
To most of us, has caused much fear.
These threats of hate, since they began
Have plagued us all the year.
But bombs and threats have gone to pot.
The day of days is here again.
When the power of man is soon forgot
And the King of Kings, once more will reign.
The yearly log will close with cheer,
Another chapter in life's great tome.
a merry Christmas and a Happy New Year
I hope you have one in your home.