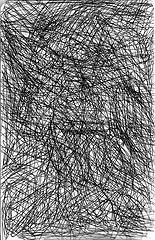 Leave the blanks empty and watch their shape evolve. Emptiness has shape. The space of emptiness has definition in relation to its surroundings.
There are numerous times each day when we compulsively fill in the blanks. When a stranger looks as us oddly, we search for the reason. "Is there a smudge on my face? Is my zipper undone? Am I ugly?" When a friend looks at us oddly, we become frantic, especially if the reason is unapparent. "Did I offend her? Did I forget something? Is something wrong?" Even asking for the reason often doesn't satisfy our doubt. "Perhaps this person is hiding something to avoid hurting me."
Years ago I read Roland Barthes' "A Lover's Discourse". Barthes' lighthearted observations of the bewildered lover's frantic interior dialog offers an entertaining read, but also strikes close to many of our real experiences. When the beloved is late for a date, the lover's thoughts ping-pong at hyper speed to gain some sense of the situation, running various vignettes across his vision: the beloved making love to someone else; the beloved, dead in the middle of the road; and so on.
In relationships, every look, word, tone of voice, silence, pattern of presence or absence is charted, dissected, rinsed, scrubbed and rehashed to squeeze out any and every drop of meaning. Ultimately, the meaning is contextual; the answers change like quantum particles, leaving more questions. The end result is little or no gain and lots of strain.
When I see someone going through this kind of self torture, it's as if they are tumbling rocks. As I kid I used to have a rock tumbling kit. My friends and I would gather a dozen interesting small rocks and place them in the rock tumbler with gritty minerals to polish them over many hours. The results was shiny rocks. And that's about what you get when you try to answer unanswerable questions. The answers may become shiny, but they're still rocks.
When alone, we tend to fill every thought space with something. We judge, name, analyze, decide and dismiss. Most of these verbs are considered desirable activities when we are at work solving specific problems. But the rest of the day we need to balance ourselves with open awareness and open ended creativity, not answers. Even after we tire of filling in the blanks ourselves, we then turn on the TV to fill them for us.
Over years and decades of filling in the blanks, our persistent attempts to fill the void becomes a compulsive background noise like static. The photo at the beginning of this post depicts this constant state quite graphically. There is no possibility of white, peaceful space with this kind of static going on all the time.
The desire to know all the answers is a natural and comforting habit. We want to have everything tidy and finished. We cling to this habit tenaciously. But that's not the way reality unfolds. It's difficult to let go of this feeling of control. Allowing the answers to remain blank can feel like jumping into a void. But as we grow accustomed to the idea, we realize the blanks are not empty at all, but full of a wondrous, infinite possibilities.