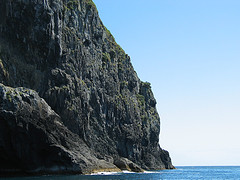 Standing at the edge of the cliff
We notice there are two possibilities.
One, we can remain, safe, where we are.
Or we can jump into an unknown future.
On one hand,
we are freed by the possibility of not jumping.
But imagining the flight without experiencing it
is a also a kind of suicide.
Seeing both sides of the view is not one or the other,
but a third angle, floating beyond hesitation and demise.
This is the philosopher's island of peace.
Yet paralysis and demise are ultimately choices.
Most of us are not philosophers.
We yearn to fly.
Flight implores choice.
Our wings need to be developed as we grow.
Decisiveness resides deep in the body.