Today is World AIDS Day, to remind us that AIDS is very much with us all. I would like to remind you that religious dogma is effectively discouraging and preventing condom use in the name of "encouraging abstinence". Millions are dying while that kind of thinking still persists. I think it's about time our karma ran over that dogma!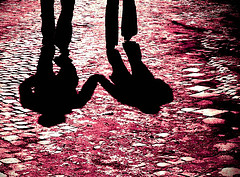 Partition
Shadow puppets
undress arms and legs
from under false skin.
Gestures sweep the sky,
pointing to roiling suns beyond
the flat life of black and white.
A disembodied voice
asks about private rooms.
The shadows frolic on, innocent.