May Sarton was a poet and writer. This soulful advice applies to any life, where we often wonder if our good deeds and intentions are received.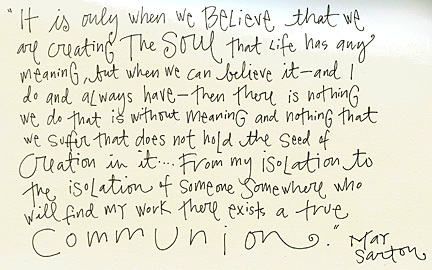 May Sarton's quote sums up the ideal spirit of the artist, or creative blogger, who, though they may not be recognized for the level of depth they feel and intuit about humanity or spirit or life, the communion with others is a given. They must trust that somewhere, someone is soaking up the intended beauty, no matter how remote or unrefined or inaccessible. In other words, create for its own sake and let it go.

I also recently exchanged several emails with another poet, Ren Powell, whose blog is Sidestepping Real. I mentioned to her how I've rediscovered the myriad spiritual powers of the works of creative writers, poets and fiction writers. Though I believe spirit needs to be developed consciously through practice and study, it is easy to see how it also develops unconsciously, through the channels of experiencing creative beauty. There are spiritual lessons in music, poetry and art which soak through the upper layers of conscious awareness into the soft inner workings of the spirit.
I found the above quote and image while browsing other blogs. Unfortunately, I don't remember where I got it. If the original poster sees this, please identify yourself. I wish to give you credit.