I've collected quilts for about 5 years. My dear friend Joe is my dealer. Sometimes I playfully refer to him as my drug dealer, because quilts are so addictive.
All the quilts I own are antiques, dating from 1830's to the 1950's. Most of them date from the end of the 19th century. Think about it; Unique folk art over a hundred years old with amazing artistic design hangs all over my house. To boot, they were made by women who lived during times when women got little credit for anything but baby making and housework.
The utilitarian nature of quilts adds to their richness. They are made to be used. Their makers didn't need to trouble themselves with design. But they did. So the artistic inspiration embodied in these quilts is pure. These are noncommercial works of folk art. Their beauty was purely for the pleasure of the maker. Although pleasure is not the best word to describe this labor.
I am quite sure these women did not have time to spare for pleasure. Life in the late 1800's was not luxurious for most people. I can image a women with a house full of children, working long hours cooking, cleaning, making clothes, washing clothes by hand, tending to a kitchen garden, perhaps tending to farm animals, and many other tasks, before having some time to hand stitch parts of a quilt.
Yet they did it. Each quilt contains that history, that labor, and those women's hard-won "flights of fancy" in its cloth. The result is more than folkart. An unmistakable spiritual quality resonates in many of them.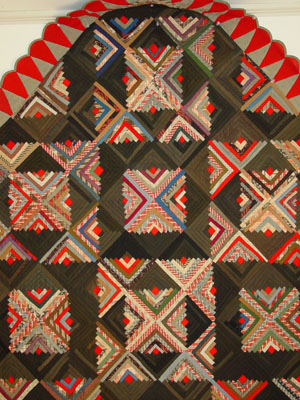 Ode to a Quilt
Textile Bach-
stitched counterpoint
structured freedom.
Alert before you
rising up to your call,
yet yielding supplely
with a ripple.
Nexus of particulars:
a culture
a function
a person
(art)
A "herstory"
carved out of scraps, recycled
moments sewn together
with devotion and care
by chapped, aching hands
under dull candle's sight.
Subtle joyous rapture
corralled by tradition.
As much a mirror
(reflection of a world within)
as a style of one.
(you with no sin)
Gravitas of conviction.
Smoldering
Jiggling
Vibrating
Swirling with
primal weight, hypnotic concision.
She recedes silently
with days fading light
then, later
twinkles nocturnally
with comfort and warmth.
Calling.
Aware.
See her yarn?
Familiar, now new.
Radiating
Strength
Stability
(softness)
Depth.
such rich modesty
such crystalline grace
a percolating prism of possibility.
technorati tags- quilts, American quilts, antique quilts, American folkart