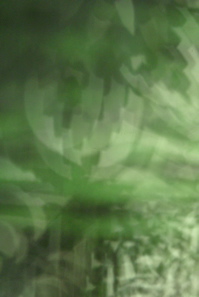 I think about trust a lot. Trust of friends, family, lovers, animals, and especially trust of one's self. I realized a long time ago that once damaged, trust takes a long time to heal. It's like a house of cards. It takes time to build and can collapse in a second.
Some people grow up being confident and never learn to doubt themselves. I was one of them. For most of my life, everything went my way. But eventually I got duped in love and made enough mistakes in my life to really begin to wonder when the next mistake might occur. That's the biggest mistake of all: fearing the next mistake. It snowballs into an iceberg of low self-esteem.
A few years back I went through a period of rabid self doubt. After R left me, I doubted everything about myself: my looks, my humor, my intelligence, my morals, everything. It eventually crept into my playing. I couldn't just quit my job, but it was hell going to work. It didn't help to practice. Because doubt can build up even more when something is carefully learned and then you still f*** it up. It's a higher cliff to fall off.
So I just showed up, and sort of closed my eyes and dove in. The internal judgment was painful. I couldn't do anything right. At least it felt that way. My colleagues assured me I sounded fine. Their generosity was part of my healing.
About that time I saw Spider Man 2. (I love that movie) In it he goes through a period of self doubt during which he loses his powers. His identity crisis consumes and weakens him. He recovers by finding his way back to himself through faith and trust. He learns to trust that he is loved and needed. He learns to have faith in his intrinsic value.
It took me a year to feel a normal trust again in my playing. I still don't really know how I got it back. I built it up over time. I just kept breathing, kept falling into the next moment, noticing that I didn't dissapear, no matter how bad I felt. Eventually the negative voices disappeared. Now I know I won't lose it so easily again. I know how to nurture that fragile shell we all need.
The same kind of fragility exists in friendship. I once hurt the feelings of a close friend who might have become a lover. I didn't know how much trust and closeness he felt for me. He moved away, both physically and emotionally. Love is a soft, fragile gift. Sometimes I'm careless with other's love for me.
I know I've hurt many people in my life. It's rarely intentional. I make choices which seem right for me, but which aren't always right for those who care for me. For this reason I work on humility daily. I usually try to err in trusting too much rather than too little. This habit pays off. Trust comes back to me. It grows slowly, like thick, soft moss in a shady wooded glen, ready to cushion me should I fall.
On a trusting note, I met a blogger friend today in person for the first time. Kelly Bell attended a family concert I played in and came back stage to say hello. It was so cool to be able to hug the wonderful person who has shared many positive words with me here in the blogosphere. Her positive energy is even more vivid up close.
Let the trust grow.