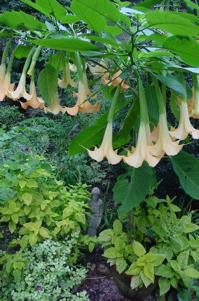 Freezing weather just returned to Columbus after a few weeks of milder temperatures. I scowled as I walked to do some errands earlier today, thinking the fresh air would do me good. A frosty breeze burned through my fleece jacket. My thoughts withered to basic survival. "Just get home!"
Upon returning home, I brought the mail in and noticed a flower catalog in the pile. I get lots of them. I've "outgrown" most of the choices they offer, and I have a good nursery nearby where I can choose healthy plants. But this catalog offered some unusual flowers and plants with colorful leaves. As I paged through it, I felt a warm, tingly hope. "Winter will end, winter will eventually end…"
I don't indulge in dreams much, because I believe they interfere with awareness of the present. (that's something I need to write more about here) But today, I felt the healing power of that little day dream.
I dreamed of warm weather and lazy days soaking in time, of bright chartreuse coleus and orange daylilies and purple petunias, which smell sultry sweet at night; of verdant glitter as the sun draws warm breezes through the trees. I dreamed of Brugmansia blooming on my back patio with its huge trumpets dangling insouciantly. It's heady fragrance illuminated the gray day of my winter attitude.
A little dreaming once in awhile is like chicken soup for the soul.
How do you dream away a cold gray day?
technorati tags- daydreaming