The maturity of man— that means, to have reacquired the seriousness one had as a child at play. F. Nietzsche, Beyond Good and Evil
I wrote the following thoughts in 1987, inspired by the Nietzsche quote. Revisiting them now, I wonder if I've lived by them. I try to fill up all the gaps in my life. Why? Mortality. Fear of death. It's only natural. Yet the original intent of those words still rings within me, muted by doubt, tempered by experience.
The very verbiage with which we play every day, like a child in a sandbox, often reveals shiny objects. But isn't luster lost with too much handling? And aren't the shiniest of those mere reflections of light from elsewhere? Yet who would deny the child chasing a butterfly or a star? What of the mother-of-pearl shell we've found, taken home, washed and put on the windowsill, then forgotten? What really matters?

The sadness I carry while burying my departed dog is a reflection, another side, of the sweet emotion I use to wet my lover's lips today. It is the beginning of some end.

The artist alone know the complexity of the blackest black. And only she knows where and how to use it in the shadows of the sunniest painting.

To tattoo our entire body with the greatest symbols of man would not begin to betray the seriousness of the cat sitting by the window watching snow fall. But who watches the cat? Who watches the watcher?

May you love the seriousness which goes beyond Good and Evil.
Nearly 20 years has passed. Almost half my life has been lived in the meantime, done with, finished. Yet endings are continuous, always revealing something new. I face forward.
A few days ago I had a large Bradford pear tree cut down. It was at least 22 years old, pretty old for that kind of tree. The older varieties, of which this was one, were known for splitting at the "crotches" of their many, heavy limbs. Depending on where and how a large branch fell, it could cause severe damage. I had taken measures to support the weaker joints over the years. I had even had the canopy lowered to relieve the top heavy weight.
Luckily this one had not yet split. But a large crack had formed in one of the larger crotches. Besides, I was tired of raking leaves in December, since it held its leaves very late. Its span covered my entire front yard, so its branches were slowly shading to death all the plants beneath its canopy. The time had come.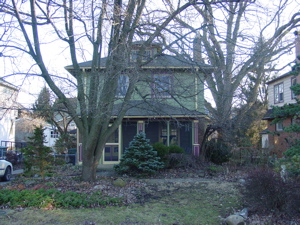 That tree was there when I bought the house 15 years ago. Now it's gone. It's unique and particular branch structure is no more. I thought about how it came from a single seed. For twenty some years it carved its way upward against gravity. It endured heavy winds, ice storms and bitter cold. It was a vigorous tree, covered with white flowers in Spring. In Fall it often glowed with bright yellow to orange leaves. Its branches housed numerous squirrel and bird nests. I had hung several wind chimes in its branches. My cats had climbed it hundreds of times, sharpening their nails on its stout, craggy bark. Most Winters, on a warmish day when I felt a bit of Spring fever, I'd get out the saw and prune its branches. I enjoyed the exercise and feeling of accomplishment. This tree endured many, many prunings. I thank it for its shade, for its vigor, for its life.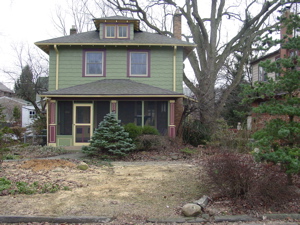 The day it was cut down, I was tense. Naturally, I feared some kind of accident, damage to my house or my other plants, or perhaps the climber would fall. All went well. Upon seeing the empty space right after it was removed, I felt anxious about having done it. I don't like cutting down trees. Too many beautiful trees have been removed on my street recently. But I knew I had little choice.
As I stood looking at the open front yard, my neighbor came over and told me she had seen a red tailed hawk circling interestedly over my fron yard within hours of the tree's disappearance. It seemed a healthy omen from nature. What do you think?
Now my front yard is open for the first time since I've lived here, a third of my life. The house, with its rich colors, will be more visible from the street. With more light the ornamental plants around it will now flourish. I can begin to replant the 100's of crocuses which used to flourish with a burst of rich color in the small lawn area each Spring.
I'm already dreaming about which small, ornamental tree will fill that prime spot in my front yard. The shocking change has inspired me toward gardening for the first time in years. The loss of that pear tree will perhaps mark other new beginnings for me. If I allow myself the childish seriousness Nietzsche wrote of, I can feel it. Change carries both death and life. Endings and Beginnings.