Here are two poems about Christmas Trees. I've always been torn about having cut trees. I've reconciled my guilt by thanking the tree for giving me the soulful pleasure of its wonderful smell and living presence in my life.
I keep my trees as long as possible, usually until my birthday in mid January. This year I haven't yet gotten a tree. I've just been too dissipated physically and emotionally, plus winter came on early, hard and strong. Who knows, maybe I'll still get inspired.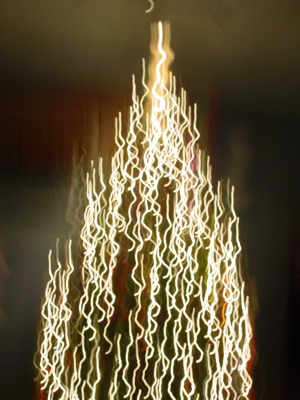 Sacrificial Tree
Darkness descends upon afternoon's glow
And pulls day's light to down below.
As fickle air courts heavy chill
Feeble warmth flees up,
Conceding defeat
To weighty still.
I then illuminate the sacrificial tree
To lift the void which leadens me.
Her scintillating glitter
Enshrouds my fears
Enveloping my heart in glamorous sight.
This starry gift is infinitely old
yet ripe with richness
as time's birth of soul.
Such sweet ritual!
Such mundane skill!
Giving root to such lofty thrill!
We need only open our hearts,
Our senses, our doubts, our souls to Her allure.
The myth of the season is born again.
Our Christmas Tree
Our Christmas tree stands before me,
evergreen through the seasons,
glowing with light
through darkness and freezing.
My soul is warmed by its
shimmering spirit,
all crystal and glimmering,
giving life to love needed.
I'm able to hope
by such burning glory
for peace where there's strife
and love for those, lonely.
My heart aches with sadness
that you can't be here near me
but life must go on, then
for Beauty's Eternity.
technorati tags- christmas tree poems, Christmas poems, solstice poems, Christmas tree