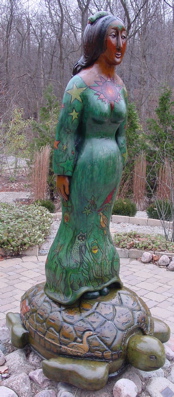 I'm morphing, trying to get my life balanced, blogged out, blogging in other directions, feeling good about those other directions (for now), filling out my gut with life and deep laughter, birthing raw thoughts from the underbelly of wild animals, beginning to believe again in the possibility of true newness in life, thinking there is hope of salvaging my distant relationship with the clarinet, thinking there may be a lover out there to match me (but not yearning for it), not reading enough books at all, yet, generally feeling quite vivid, attenuated, effulgent…drinking from the source.
I want to apologize to those whose blogs I usually frequent. During Winter I hibernate. I go inside my "box" and clean up, sort, add content, edit, rest…lots of resting, resting my eyes, my brain, my insides, taking time to stare out the window, time to watch the particular jiving, bobbing Indian head dance of turtledoves.
The word selfish is apt to describe this behavior. But from all that I've learned from interacting with all of you in this electronic neighborhood, I know I am useless unless I balance my own scales. I'll be here. And in due time I'll be getting back to visiting all my friends, old and new, including you.
So, please forgive my manners. My Ps and Qs my be out of place, but my intentions are sincere and my loving thoughts still go out to you all, if a bit more quietly for awhile.