I was out of sync. this morning. The pink gyroscope in my garnet jello heart was out of balance. Even blogging couldn't rouse me. You know it's serious then! I've noticed that just watching these slumps can make them worse. Tiny judgments creep in, assumptions that the mood will keep sinking. It's a small but powerful difference.
So I decided to walk to where I vote. As I walked the rare, saturated colors of ephemeral leaves watched me.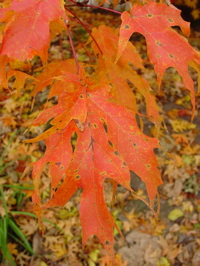 I thought of the seasons and how they continue before and beyond me. I could sleep forever and the world would continue. I realized my burden was not really mine, I just thought it was. I had made it mine. Now I saw the leaves would help shoulder it for me. The air was warm and sweet, and it also comforted me, but only when I let it. So I let it, reluctantly. The air wasn't offended at all.
At the polling station, I was told my precinct had been moved, and was actually closer to me than before. I spoke a few minutes with a city council person. We spoke of the arts and how cities need them to stay healthy. I felt healthier hearing that. And hearing it from such a friendly representative.
As I headed back, I took a detour through a wooded neighborhood. I haven't taken detours in awhile. I've been staying on the main path way too much.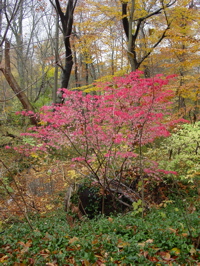 The colors I saw are indescribable. Colors have so much to say, but they say it without words.
I began to think of my pink gyroscope garnet jello heart, and how such a tiny imbalance can throw it out of whack. And I thought how I needn't fear, because there's so many things to help re-align it, just the right amount, not too much, not too little. I heard a little rattle in my head.

I thought how light my soul is, the weight of a butterfly. I usually want to think of myself as a 160 lb., gravity pulled, lump of flesh, weighed down by life.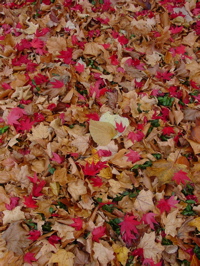 But my butterfly soul has wings of words, which flap against the molecules of indescribable colors and are lifted by the warm, sweet air of my friends' thoughts.
An hour later, I'm feeling lighter, and the light outside my window is glowing as if it knows. It's glowing from within, with me.
And what seemed like a huge burden was just a little tiny misplaced ounce of perception and assumption of who and how I am.
Technorati tags- healing, walking, nature, healing thought