I wonder what would happen if the world finally came to its senses and decided war and power were self-destructive ends.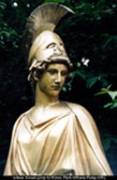 What would it be like if women took leads and created an order of nurturing deeds. Would some women rise up and demand to be heard? Would they bicker and barter for their version of goodness goddesses as the best to be shared? Would we begin to see the comfort of a woman's touch turn to brawn? Would her womb become the vehicle of a new ruling class, one of strength and control, a new kind of structure for keeping the peace?
What would the future be like if the world were ruled by a virago's powerful, womanly clutch?
Technorati tags- strong women, women leaders, Athena, woman's touch