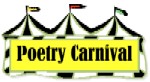 The 7th poetry carnival will take place in my corner of the woods here, at the top of the hill at Glitter Lane.
Since I'm a musician, I thought we could explore the idea of music poetry. That can be interpreted any way you want. It could mean poetry about music, how music affect you, or with a musical or rhythmic tone. I hope you have fun with it. Here is my poem on clarinet tone..
OK- Major after thought stream of ideas coming up: Another option is to write a lyrical (musical) rhyming poem about Thanksgiving. Let's get corny! Pour on the gravy. Baste the turkey with songful love. Lay on the mushy mashed potatoes. I'll probably write one for Turkey Day
Submissions are due by Tuesday, November 29th.
Submissions should follow this format and be sent to my email address, garnet at glitteringstew dot com.
Title of Blog:
URI of Blog:
Title of Poem (or just the first line or a number):
Permalink URI of the Poem:
Number of Lines:
Key Line or lines (1-4) to excerpt:
This spark was started by Dan at Philosophical Poetry. You can also learn more about the past contests at the Google Poetry Carnival Group. It's easy to join the group.