He's shy and quiet.
You barely notice
his diminutive presence,
tucked away
in his modest room.
I make a date
to meet his full
potential, filling
up his stature
to please my desire.
He willingly submits
to the plan to expand
his tiny form
to meet the standards
of my expectation.
As he bathes and soaks
his dry skin softens.
Instead of shrinking
to a prune of fruit,
his body grows, and grows
as the pink, sleepy shape
wakes and thrives,
stretching to attention,
many times his original size.
The blooming presence
comes clutching a heart and flowers
and rosy cheeks radiantly
anticipating my caress.
But I tell him "Thank you,
you're not my type",
and continue to roam.
Though I'm flattered
I'll have to pass
this opportunity
to date a mere five inch
piece of slimy foam.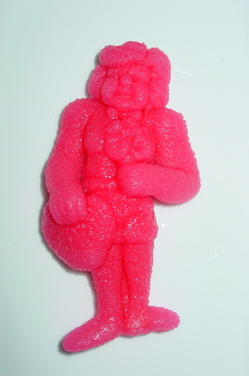 Technorati tags- poetry, poem, fun, sexual innuendo