Tell tell, these bells ring in clamorous mimes,
golden light ripening dusk's rhymes.
Their wavy peals knock senseless all will
with intoxicating smells. Sweet frilly trills of
velvet curl 'round minds weak thoughts.
Trumpets blare orange, their mute shots
grip deeply, but mildly, spreading moments apart.
Move not a muscle! You only think you start.
Alien udders, teats, voluptuous, alluring
spew marvelous gas, earthward procuring.
Honey, clover, sweet oil scented plasma
fumes night's clicking air with hypnotic miasma.
Take their milk, succor its careless troth
of sun, summer's blare distilled for the moth
whose wings, hummingbird style, blur eerily
as it darts near these towering tubes, haunting warily.
These chants of vertical cornos, aiming skyward ho
blast off, pushing earth and you, flyward, singing so.
These cantalope colored carillons urge time away
to let your mind wander, let love to love stray.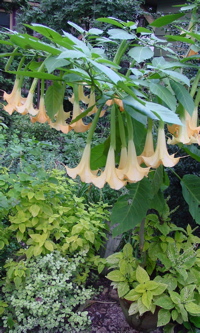 The grand, momentous, earthward hanging trumpets of Brugmansia are blooming ecstatically and prolifically on an eight foot potted plant I have in my back yard. There are now 26 huge flowers flopping carelessly down from the tree like form. (which started as a 1 foot stump in June) This nightshade family plant is also related to Datura, whose up facing trumpets carry hallucinogenic oils, giving them mystical powers over human minds.
Technorati tags- poems, poetry, Brugmansia, flowers