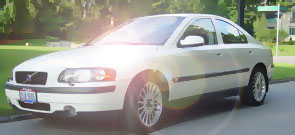 I can say without reservations that my trip out East was a complete and perfect success. It really couldn't have been better. I was invited to my second cousin's wedding August 13, and knew I had to be there, even though I resist going to weddings (and funerals). The formality of weddings bothers me. But our extended family is small, and I simply had to attend.
I was also asked to play at the wedding. My sister and I grew up playing duets in church and at ceremonies. We gave numerous recitals together as burgeoning professionals. She plays flute beautifully, and we always clicked in our playing.
As the date loomed, I imagined a trip to include a visit to Mom in Bethesda, and Dad, who is up at the Cape for the summer. The wedding was to be in the Poconos, near Allentown, PA. All those locations are on the East Coast. It would be expensive to fly back and forth, so I decided to drive. And since I had just gotten my wonderful Volvo S60 T5, I was all set. But I wanted to add a special destination. Since I like hiking, I decided to drive through the Adirondacks.
My housemate is away for the summer, so I had to get a house sitter. I used Craig's list and found one in a few days. A Japanese student who lives an hour away relished the idea of living closer to OSU in Columbus for a few weeks. Everyone won. I was a little nervous at first letting a stranger live alone in my house for two weeks, but she turned out nicely, taking good care of my garden and cats.
I left at a civilized hour, 10 AM August 4. I took lots of good music and books on tape. I was armed with AAA directions, a full tank of gas, some Red Bull for energy, a great car, and lots of excitement. The way I planned it, the brunt of the drive would take place the first day. Get it over with, was the thought. It worked. I buzzed my way across Ohio, around Cleveland, then over the huge expanse of Pennsylvania, up and up and up into New York State, then over and into the Adirondacks. The drive was supposed to take 11 hours.
I only stopped once in the first 9 hours, to get gas and have lunch. It was somewhere along Interstate 90. The line at MacDonald's was ridiculous, but I had no choice. I didn't pack a lunch and I was hungry. It took 40 minutes to get food. No matter. After a chicken salad (which is pretty tasty) I was on my way.
Around 7PM I stopped for dinner in Watertown, NY, just off 81. I found a nice little Italian place (the name escapes me) and settled down to read Michael Crichton's "Prey", while enjoying a healthy and filling meal of veal sauteed in butter and lemon, with a huge plate of broccoli on the side.
After I hit the road again, it started to dawn on me that I was further from my destination than I thought. NY state is huge, and what looked close on the map was at least 3 hours away. With the light fading and winding roads ahead, I began to panic. I had hoped to be at my destination by 10 PM. Luckily my energy was good.
After getting a bit lost, which cost me 3o minutes or so, I was on track. But the miles I put under me barely chipped away at the distance I had to go. The highway through the hills was two lane, but also nice and wide, with a generous shoulder. I began to really test the speed and handling limits of my Volvo, which is built with a sports suspension. Wow, I'm glad no deer wandered across the road. They would have been vaporized as I drove right through them.
I finally made it to Wilmington around 11PM, 10 miles past Lake Placid. I passed through Harrietstown and the Saranac lake region before driving through Lake Placid. As I drove (much slower now) through these towns, they offered cozy and comforting summer town scenery, streets lined with quaint B & B's and bustling with revelers and happy looking humans. My summer vacation had begun.
With about two hours stopping, it took me 13 hours. I was barely tired. The Mountain Brook motel where I had reserved a room left me the key to my room in the entrance foyer. They were all asleep. It felt like coming home late; I tiptoed around. The room had knotty pine paneling, a nice cool AC and a hot shower. No phone or TV. I had some Graham crackers and milk before falling asleep reading.
Tomorrow I'll tell about my wonderful hike alone up Blueberry Mountain.