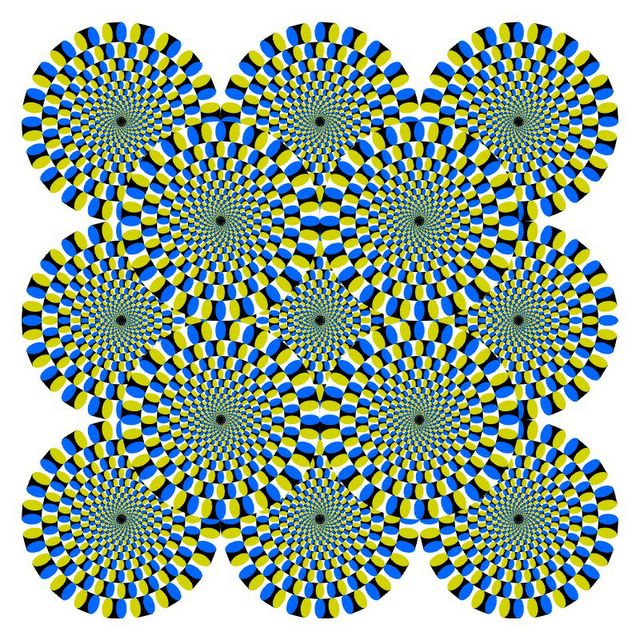 I like asking paradoxical rhetorical questions. Sometimes just asking them gives insight to the unanswerable ones. I like pondering extremes, ultimates. It gives me perspective. I feel more able to handle the little ups and downs in my life.
These questions are not new. They are certainly influenced by Lao Tzu.
How can we know anything until we know nothing? Do you think it's possible to know nothing? How can you know it if it is nothing? Is "anything" better known if seen with the awareness of its opposite, nothingness? Nothingness is like the star you can only see if you look slightly away from it. It's only there in absence of everything else. In the above illusion, the wheels turn where you do not look.
Somehow everything, anything, has a little more presence, aura, after a little absurd discussion about nothing. The presence of life is more poignant when seen in the shadow of nothingness. We all get caught up in the drama of our lives, and we often forget the void which gives everything perspective. We forget the soothing comfort of knowing we are timeless, that we were always here, that we will always be here, even when our bodies go back to the earth. We forget the freedom that affords us, the fearlessness it affords us.
In the rare moments when I feel completely (in Krishnamurti's words) "free of the known", I am most capable of making decisions, solving problems, attending duties. I am capable of throwing myself into life, filling it up.
For the next few weeks, I plan to ponder the nothingness of my blog, experience its absence, to see what it really is. (we'll see how long it lasts!)