Spanish Moss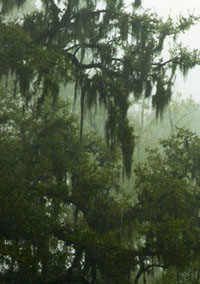 Live Oak draped
in Spanish Moss,
wilting with it
as if weeping
in the sweltering sun.
Autumn never comes here,
only peripatetic monsoons
which bring heavy, soggy freshness.
While through the rain, shivering still,
remains this mossy tree in a breeze
(like sultry girls shimmying
on bars late at night).
After the storm's passing
the sun dies
an inexorable death, leaving a
saturnine penumbra of tropical magic.
Yet, there remains the dance of
this figure swaying to
quiet, secret music-
jape of the lives we live.