Jewels in the Sky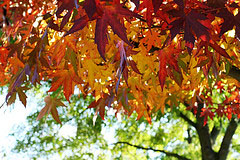 Glistening jewels coat
the tips of trees
which light the skies
with lofty ease.
Priceless Rubies, Topaz stones,
and Mandarin Garnets
in orange tones.

Each will be sold in silent bidding
with votes harnessed
from a passing crowd
of wide, uplifted eyes
whose currency, only fitting,
is to be pleased-
sometimes out loud!
Later these gems
whose fiery flames
burned without heat
and singed none but their stems,
these dazzling comets
will fade and fall
down to earthly feet
whose toes will curl
deep into the ground
and stoke the coals
for next years round.

A Mardarin Garnet.